Who we are
One veteran teacher. One ed reform policy wonk and lawyer. Both parents. Ed researchers. Eyewitnesses who identified the most neglected variable for student success.
What we do
We teach parent-child pairs. We use fun with art & music to help children think, speak, read, & write…better. We write curriculum & design programs. We champion family learning.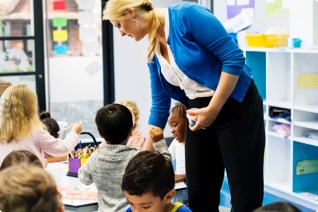 Why we do it
We believe the equation for student success is missing strategic parent-child learning. Our strategy uses art & music to build language and literacy skills & families.  It fills a void between overburdened schools & undervalued parents. We believe both want the best for each student. But, schools' scarce resources and parents' lack of understanding & know-how limit them both. We believe that Story Square's committed focus on family learning founded on the academic cornerstone – literacy – will yield student success.
Big LITtle Learning
Building language and literacy skills is a big deal. It is square one…AND much easier to do with someone who is Bigger. A Bigger someone who loves his or her little. Little Boy. Little Girl. Little Joy. Little Fun. To learn more about the EXPERT LEARNING curriculum and Big-LITtle Learning classes, click here.
Big LITtle Fun
Learning is hard work. Mastering literacy skills takes focus and commitment. But, nobody said it couldn't be fun. Imagine you and your little joy having fun while mastering literacy skills. Programs designed for Big LITtle Leaners ages 4-11. To learn more about the success and fun that awaits you, your little joy and Story Square, click here.
Alphabet Magic Events
What better way to spend a morning or an afternoon than having fun on the Square with alphabet magic. Alphabet magic events build families, communities, and bright futures. They are reminders that we can have fun while we learn together. For a list of Alphabet Magic events you can attend or customize with your family, friends or community, click here.
Spellbound
We are committed to leaving each community spellbound with alphabet magic. But, our success absolutely depends on how well we connect. Connect fun to learning. Parents and children. Families with communities. Research and Story Square programs. Best practices to success. We are constantly connecting our families with enterprising thoughts about education – in particular about the treasure of family learning. To learn more about how Story Square is education community support and research on family learning, click here.
Behold!
The matchless power of parents.
The research is in. Parents increase their child's engagement, motivation, and reading achievement when they offer guidance in child learning.

Company
Focusing on the matchless power of fun family learning to build the earliest indicators of success – language & literacy skills

Methods
Inspiring fun learning for children & parents to create memorable learning experiences together through music and art


Benefits
Advancing student success with ease – Emotional, Academic and Social development


Steps
Connecting our parents and children and creating expert learners – Exercise. Expose. Excite. Expand.

You have her undivided attention now.
Hold onto it with a bit of alphabet magic.
We are excited to get to know you. Please leave your name, email address, and a message. Let us know how we can help your school, organization or family invest in family fun learning that advances language and literacy building skills.